Pool of volunteers of Rato - ADCC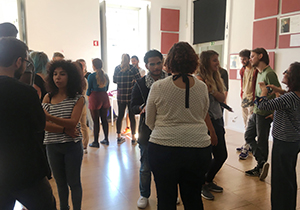 All people that have some knowledge of Informatics and are available and willing to help Rato - ADCC can be a part of the group of volunteers - it's not required for you to have any specific qualification. It's just needed that you want to be a part of this knowledge sharing community.
In this giving and taking cycle, it is established a point system in order to give to all volunteers of an exchange with training at different levels and domains. Therefore, each hour of volunteering will correspond to a point that, its accumulation, will give you credits to a training activity paid by Rato - ADCC.
Besides this incentive, we will also give you an insurance and a subvention for the transportation and food. You are entitled for a participation certification and a recommendation letter according to the work that you develop with Rato - ADCC.