Structured dialogue project with Erasmus+ programme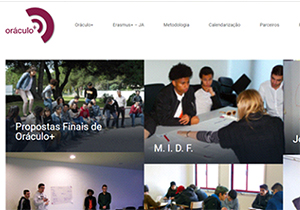 With the reference 2016-1-PT02-KA347-003157, "Oracle+" was a project developed in the framework of key-action 3 of Erasmus+ programme that aimed the creation of political proposals of youth information with a focus on the promotion of european mobility opportunities.
These proposals resulted from different meetings between youngsters and different political and social stakeholders – these proposals were placed in http://oraculomais.eu where youngsters can register and interact with the content of this proposals through voting and commenting and suggesting improvements for those proposals.
In the end, was done an international meeting for the final presentation and evaluation with the participation of different actors that were involved in the project. For more information, check out the website http://oraculomais.eu.